The 2015 Jeep Renegade is a crossover SUV that will give two groups of people cause to celebrate: long-time Jeep lovers who smile when climbing over rocks and people who love a car that can make them smile on looks alone. The first group will gush over Jeep's best mix off-road-capability and road-ready comfort. The second group will appreciate the Renegade's quirky stylings, roomy interior and overall boisterous personality.
In short, there is lots for everyone to love. Butler, Kinnelon and Bloomingdale residents who are curious about something completely new and fresh with firm roots in its heritage should visit Precision CJDR to try out one of these boxy bad boys for themselves.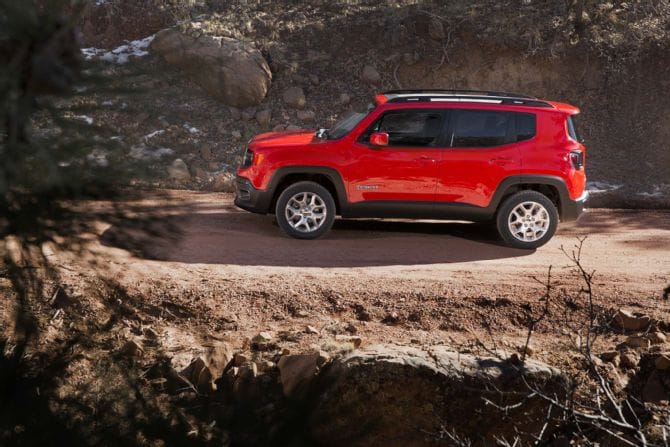 Exterior
The 2015 Jeep Renegade's exterior immediately grabs the eyes, and its subtle design elements refuse to let those eyes go without getting a good, long gander first. A swooping door line, bulging wheel wells and a ravishing rear end all make the Renegade superbly unique. The flat roof, boxy front windshield and squared off front overhang keep the truck quintessentially Jeep. Two "Xs" over the rear taillights give further evidence of the vehicle's heritage.
A grill full of rectangular teeth and unmistakable Wrangler-inspired, round-eyed stare also make sure that although this Jeep could be considered "cheery" it is not something to mess with. You can get the Renegade in one of ten funky colors, including bright orange, yellow, blue or red in addition to the more subdued hues like camo green, black, white and "sand." 
Interior
Jeep's dedication to mixing fun and functional did not stop with the Renegade's exterior. A handsome dash with high-quality materials and a faux-anodized finish keeps things feeling modern, especially with trim accents and stitching that offer a splash of color. Comfortable, track-inspired seats give you plenty of support. The instrument cluster is very easy to reach and gives you full control over options like switching to All-Wheel Drive mode in addition to cranking the A/C.
One of the most appealing features is the My Sky roof panel system. In homage to the Wrangler, two large panels can be removed to give everyone inside a taste of wind in their hair. 20/40 split rear seats and a large cargo area offer plenty of room to store anything you need, including the detached My Sky panels.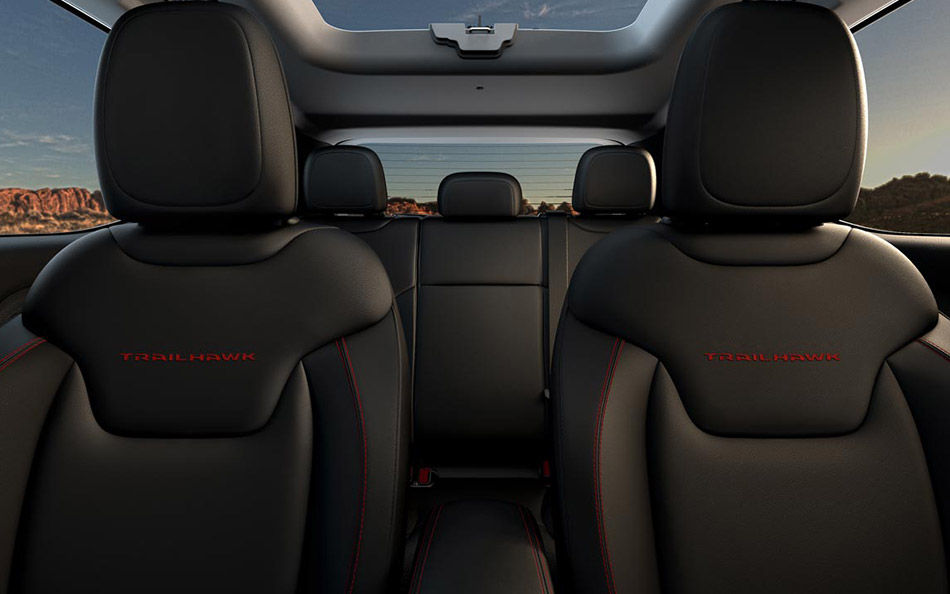 Performance
Drivers get two choice of engine sizes. The base model gets a zippy 1.4 L turbocharged engine that cranks out more output than it sounds at 160 hp and a generous 184 lb-ft of torque that only comes in a manual option. Automatic-only drivers will have to choose the naturally-aspirated 2.4 L, which gives you 180 hp and a much higher red line at 3900 rpm along with Chrysler's refined nine speed automatic seen in the Jeep Cherokee. The 2.4 L can also be coupled with a manual.
Both engines feel great with subtle differences depending on where your tachometer happens to lie. EPA emissions tests have not been completed, but Jeep is so far promising around 30 mpg highway, putting the Renegade towards the top of its category. 
Off-Road Capability
Doubters should prepare to have their jaws scooped off the floor when they see the Renegade's ability to play in the dirt. An upgrade option grants a capable Active Drive 4WD system that helpfully disengages the rear axle drive when it is not needed to preserve fuel mileage. Jeep's Selec-Terrain system offers different damping and tire output levels for conditions like Snow, Sand and Mud with an Auto setting for the undecided.
The crème de la crème of off-road options can be found with the Trailhawk model. This version gets you the Active Drive Low 4WD system, an added Rock mode to the Selec-Terrain module, 17 inch offroad tires, an added skid plate, tow hooks, a higher ground clearance and special front and rear fascias that optimize the angle of approach and departure. Despite the Renegade's happy-go-lucky stylings, it will gladly eat up steep, rocky hillsides and bog down into mud like it was going on a casual Sunday drive. 
Butler, Kinnelon and Bloomingdale fans of off-roading and stylish cars alike should hightail it over to Precision CJDR to feel what it's like behind the Renegade's wheel. Visit our inventory page to see our current selection and then contact us to schedule a test drive.