The 2015 RAM 1500 is a versatile truck, in the sense that it is strong and dependable, but luxuriously refined on the inside. With a strong motor and a comfortable cabin, the truck has everything you could possibly need. Now, residents of Butler, Kinnelon and Bloomingdale can find the 2015 Dodge RAM 1500 at Precision Chrysler Jeep Dodge Ram.
To help you learn more about the potential of the 2015 RAM 1500, below you can find a comprehensive review that offers a look into the pickup truck and its reliability.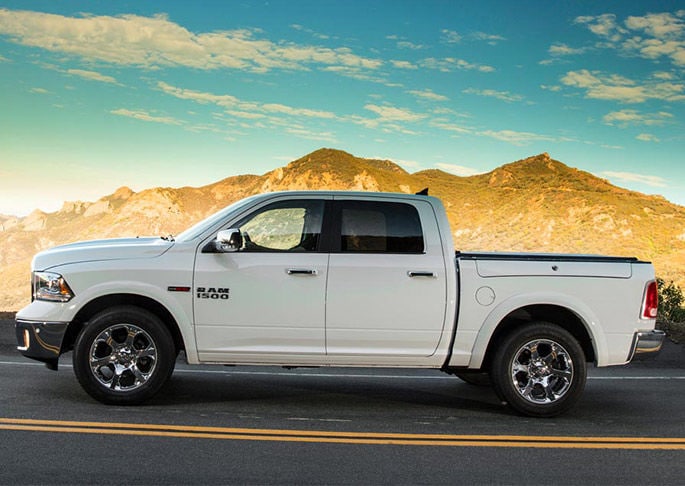 Strength
The 2015 RAM 1500 is built to be strong so that it can help you get any job done. In order for your pickup to be strong, it needs to have a powerful engine built in, which is why the 1500 comes with a 3.6L Pentastar V6 engine underneath the hood. This setup provides 305 horsepower and 269 lb.-ft. or torque, giving the truck the ability to tow up to 7,600 lbs. and carry a payload of 1,900 lbs.
The strength of the 1500 is also boosted by an Active-Level Four-Corner Air Suspension that is designed to maintain exceptional performance when under severe scrutiny. Adjustable springs let you raise or lower the truck to one of five height settings in order reduce any drag.
Refined Interior
Inside of the RAM 1500, drivers and passengers will feel as if they were in a comfortable sedan. While the outside of the truck is built to be rugged and rough, inside are luxurious leather seats and real wood accents throughout the two rows of seats. The expertly-styled command center in the truck's middle console is modernly designed but also incorporates a number of different advancements to do more than just provide a navigation system and rear view camera. With the UConnect system, your 2015 RAM 1500 works as a moving WiFi hotspot, giving you premier communication and accessibility convenience.
Aerodynamics
You can't have a sports car drive in a pickup truck, but the 2015 RAM 1500 comes pretty close. The overall exterior shape and design of the pickup truck is engineered to reduce wind resistance and drag so that you don't have to use more energy and you can save fuel. The Active Air Grille Shutters on the truck also work to improve the aerodynamics. They are designed to open in order to cool the engine down when necessary. At highway speeds, they remain closed to reduce any potential drag.
Summary
The 2015 Dodge RAM 1500 is a rugged pickup truck that will work with you to complete your job. And when you're not at the site, the truck will transport you to your next destination in a stylish and efficient manner.
If you're a member of the Butler, Kinnelon or Bloomingdale community, you can find the 2015 Dodge RAM 1500 at our Butler Ram Truck Dealership. Stop into our showroom to test drive one today.