The workers of Butler, Kinnelon, and Bloomingdale need a truck that will help them to do the tough jobs. It needs to be dependable, strong, and fun to drive, and you'll find all those qualities with the 2016 Ram 1500, now at Precision CJDR.
If you're looking for a new pickup truck in Butler, Kinnelon, or Bloomingdale, Precision CJDR is here to make sure that you select the right one for you and the job you need to accomplish. That's why we're giving you an inside look at the all-new 2016 Ram 1500.
Dependable Performance
As you would expect from any Ram truck, the 2016 Ram 1500 has a strong performance that you can depend on. The standard engine configuration is a 3.6-liter V6 that generates 305 horsepower and 269 lb-ft of torque. This allows for a heavy towing capability of 6,500 lbs.
Drivers also have the option of upgrading to the 5.7-liter V8 HEMI for 395 horsepower and 407 lb-ft of torque that lets you tow up to 10,650 lbs. No matter what job you need your 2016 RAM 1500 to help you with, there's an engine that will meet your demands.
Supportive High-Tech Features
The new 2016 Ram 1500 is equipped with several new high-tech features designed to make your ride convenient and support you on a work site. For example, with your electronic key fob, you have the power to lower the 2016 Ram 1500 so you can easily load or unload any heavy cargo or materials into the bed.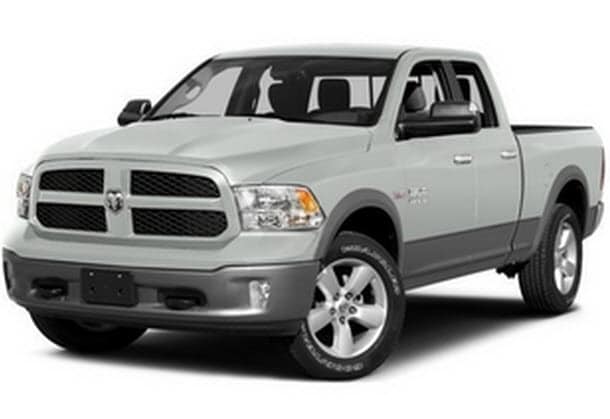 Along with the rearview camera, you'll also find a handy cargo camera that lets you check on the bed of your truck to make sure everything is packed tightly.
Comfortable Interior
While rugged on the outside, the inside of the 2016 Ram 1500 is refined and comfortable for drivers and passengers. The standard bench seat can hold three adults comfortably, but it also features a fold-down console when the middle seat is open.
For a more luxurious seating option, bucket seats are available as well, which provide arm rests for passengers and power-adjust pedals.
And along with the comfortable and spacious seating, you'll have plenty of hidden areas to store cargo, such as below the middle front seat, charging ports for your phones, and large door pockets, letting you store anything you need in the truck so it's readily available.
Summary
The 2016 Ram 1500 continues to build on the sterling reputation of the pickup's previous models. Along with dependable performance in terms of horsepower, towing, and torque, you'll find a number of new convenient and innovative features as well as a comfortable ride thanks to the refined interior.
Residents of Butler, Kinnelon, and Bloomingdale will be able to find the new 2016 Ram 1500 at Precision CJDR. Schedule a test drive with us today!