Morris County's annual First Night celebration provides a family-friendly, alcohol-free environment for you to ring in the New Year with your loved ones. With more than 200 artists and 80 performances across 24 venues, First Night is jam packed with arts and culture you won't find at your typical New Year's Eve party. If you are interested in attending, take a look our guide which breaks down everything you need to know about this year's First Night Celebration in Morris County. Check it out!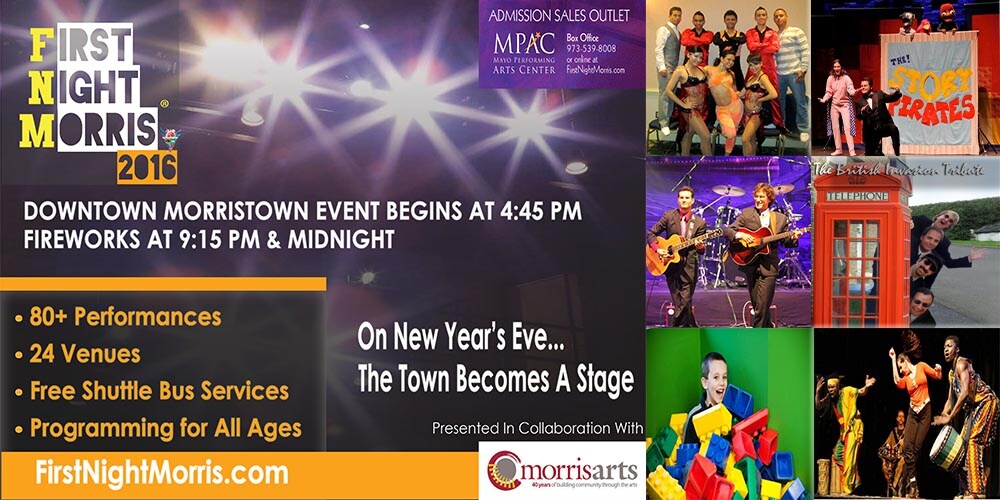 What You Need To Know about First Night in Morris County 2016
As the largest First Night celebration in New Jersey, First Night Morris County attracts nearly 10,000 visitors from across the state each year. It's diverse catalogue of music, theater, visual arts, and children's programming make it one of the most highly anticipated events in the community, and continues to grow as time goes by.
First Night kicks of promptly at 4:45 and includes fireworks at both 9 p.m. and midnight. But that's not all it has to offer. First Night also includes a wide variety of musical performances by acts like The British Invitation Tribute, the Zydeco Revelators, and the New Jersey Festival Orchestra. Each act is guaranteed to enthrall its audience with their unique interpretations of popular music and expansive repertoire of original material.
Children's Programming at First Night in Morris County 2016
First night is the perfect New Year's Eve celebration for young children. Between hula hoop dance instruction from Whirled Revolution, living art face painting, and a performance by the illusionist Benjamin Lipman, First Night has everything you need to keep your kids entertained throughout the evening. Kids can also do arts and crafts or attend the Children's Fun Festival.
Where to Eat at First Night in Morris County 2016
The Morristown Deli and Hibiscus American & Caribbean Cuisine will both be open during First Night. Each provide fresh, artfully crafted items on their menu for a delicious, unforgettable dining experience. Be sure to stop in for a quick bite with your family on New Year's Eve!
Admission to First Night in Morris County 2016
Prices for tickets into First Night vary but are $20 if you purchase them online before 11:59 p.m. on December 21. If you buy four or more tickets online, the price will be lowered to $17.50 per person before the 21. Afterwards, prices will increase to $25 per ticket or $22.50 for purchases of for or more tickets.
If you need overnight accommodations, you can purchase Hyatt Packages starting at $249. Tickets can be purchased online at the Mayo Box Office located at 100 South Street in Morristown, or by calling the Mayo Box Office at (973) 539-8008.
Happy New Year from Precision Chrysler Jeep Dodge Ram!
First Night in Morris County is the place to be on December 31, and we hope to see you there! If not, we at Precision Chrysler Jeep Dodge Ram wish each of our customers in Butler, Kinnelon, and Bloomingdale a happy and healthy new year!