Everyone's heard the old canard that taking your vehicle to the dealership for repairs will result in higher repair bills. The truth is that working with your dealership may actually save you money on repairs and be more convenient.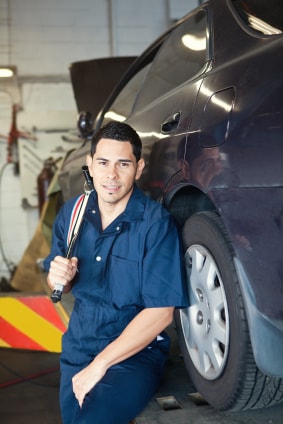 While you may be able to get a lower price on a car repair from a shade-tree mechanic, there's no reliable guarantee that these mechanics will be able to correctly diagnose your vehicle and make the right repair. You may end up going to mechanics over and over again before the right repair is made.
Dealership mechanics offer a superior solution for car maintenance and repair needs. Dealership mechanics are trained to work on your specific brand of vehicle. They know all of ins and outs of the vehicle, and the quirks particular to its year and model. Armed with this knowledge, car dealership mechanics can make the right diagnosis and repair the first time.
Dealership mechanics are also held to a high standard of professional achievement, and frequently attend continuing education or training sessions to keep current with automotive repair trends. Mechanics at your dealership will also be most likely to spot potential problems or developing problems with your vehicle.
If you're not taking your vehicle to the dealership for repairs, you may be missing out on maintenance and repair services offered by your warranty, or extended warranties offered by car manufacturers in event of a recall. If your vehicle's repairs are covered by a warranty agreement, taking it to an outside mechanic is just going to lose you money. Also, some dealerships offer deals like free oil changes for life that you may miss out on if you don't visit the dealership.
Another key benefit of taking your vehicle to the dealer is turnaround time. Because they're accustomed to working on your vehicle brand, dealership mechanics are able to quickly make the needed repairs to your vehicle. Also, dealers will have manufacturer parts for your vehicle in stock at their dealerships most of the time. They will have special tools that may be required to work on your vehicle, too. If you're working with an outside mechanic, that mechanic may not have the part you need, and you may have to wait weeks before they can obtain the right part.
Maintaining your vehicle will add to its longevity and will also help you retain resale value. At trade-in, dealers like vehicles that are clean, neat, and in sound mechanical shape. A good mechanic at your local dealer can help you ensure that your vehicle stays in good repair.
To schedule a test drive or talk with a sales rep at Precision Chrysler Jeep Dodge Ram, call 1-888-313-2410. Precision Chrysler Jeep Dodge Ram has an excellent history of providing quality vehicles to Butler area residents, and is eager to help new customers find great new and used vehicles.