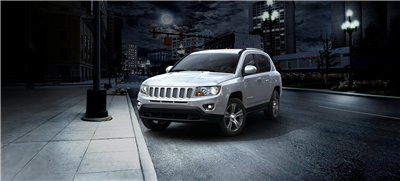 The 2016 Jeep Compass compact SUV is designed to be capable on uneven terrain but also is expertly crafted to look sharp on city roads. With spacious room for five passengers and cargo, the new SUV is ready to take anyone anywhere. You can find the new 2016 Jeep Compass at Precision CJDR, near Butler, Kinnelon, and Bloomingdale. 
Before you schedule your test drive of the new 2016 Jeep Compass, Precision CJDR is here to give you an exclusive look into some of the new features you'll find in the vehicle.
Spacious and Comfortable Interior
Inside the 2016 Jeep Compass, all five passengers will have plenty of room to stretch out with reinforced comfort in terms of seating upholstery and sophisticated chrome accents. Plus a standard acoustic glass windshield addition provides a quiet cabin, allowing drivers and passengers to communicate without the distraction of wind or traffic noise.
Cargo space is bountiful thanks to an optimally designed trunk space, but with 60/40 folding rear seats, you can optimize your 2016 Jeep Compass to carry any amount of cargo that you need to.
Impact-Ready Build
The brand-new 2016 Jeep Compass is built to protect all of its passengers thanks to a crash-ready design. The compact SUV is built with crush zones in the front that are engineered to disperse crash energy away from passenger areas and absorb excess energy in the event of a collision.
Side impact door frames are ready to protect passengers, and ultra-high-strength steel crossbeams have been installed for an optimally protected cabin. Plus the 2016 Jeep Compass features six advanced airbags scattered throughout the interior.
Capability
Like other models in the Jeep family, the 2016 Jeep Compass in engineered to be fully capable. Under the hood, you'll find a 2.0-liter DOHC engine that produces 158 horsepower and 141 lb-ft of torque.
Added to the exterior of the 2016 Jeep Compass are various features designed to help you explore the world ahead of you. Available heavy-duty steel tow hooks can be mounted on the left and right side of your front bumper plus the addition of another on your rear bumper. And with underside skid plates, your 2016 Jeep Compass will be protected from debris when you're traversing off-road.
Summary
The 2016 Jeep Compass is a compact SUV with style, brawn, and refinement. Inside and out, the SUV has the makings of a luxury vehicle that will turn heads on city streets. But it also doubles as the capable, off-road SUV that you expect from a Jeep vehicle due to its durable additions.
If you're looking for a new SUV in Kinnelon, Bloomingdale, or Butler, you can test drive the 2016 Jeep Compass and see all of the new features today at Precision CJDR.