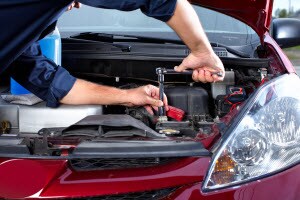 For your vehicle to run properly, it needs a properly functioning transmission. It seems simple enough, but take into account that your transmission is a combination of more than 100 moving parts exposed to copious amounts of friction and heat, which easily and quickly leads to damage.
When residents of Butler, NJ, need of transmission service, they can take their vehicle to the auto service center at Precision CJDR before more damage results.
A group of professional automotive technicians who are prepared to help you with numerous automotive issues, including transmission problems, staffs the service center at Precision CJDR. To increase the longevity of your vehicle, your transmission fluid needs to flushed, and we're just the people to do it in Butler, NJ.
By reading on, you can learn more about why your transmission fluid needs to flushed and how you can tell.
• Why does my transmission need to be flushed? When you drive for some time, your transmission fluid, which helps lubricate the many moving parts in your transmission, begins to oxidize and buildup begins to form around the parts, causing them to grind and stick together. If you haven't had the transmission fluid in your car flushed within 30,000 miles or two years, the buildup is probably forming as you read this.
This buildup will cause your transmission to work much less efficiently, and if not treated, can lead to more serious and more expensive damage. However, before the professionals at the Precision CJDR service center can help the drivers around Butler, NJ, and their transmissions, the need for a transmission flush needs to be identified.
• How do I know when my transmission needs to be flushed? There some surefire signs that you need to look out for in order to recognize that your transmission fluid needs to be changed, including the following:
Delays in your transmission shifting
Manual gears are sticking or are completely stuck when trying to shift
Transmission grinding during acceleration
Shaking when driving on smooth, paved roads
Burning odor coming from under your hood
Visible fluid leaks forming underneath your car
Clunking or screeching foreign sounds when on the road
Whenever drivers in Butler, NJ, experience these issues, it's crucial that they act quickly and bring in their vehicle for service at the Precision CJDR service center. By doing so, you're ridding your transmission of this buildup, eliminating all of those annoying warning signs that affect your drive, and making sure your transmission won't be further damaged, resulting in even more expensive repairs.
When you drop off your vehicle off, we make sure to take good care of it and properly fix any issue that may be occurring. Once completed, we'll return your vehicle to you in a condition that's good as new.
Residents of Butler, NJ, can schedule their next transmission service with Precision CJDR today!