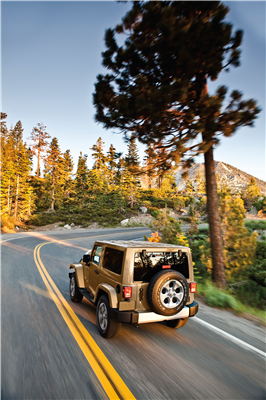 The brand-new 2016 Jeep Wrangler features exceptional additions that are being praised for enhancing the SUV's capabilities. The new model is built to balance interior refinement and the off-road ruggedness that has made Jeep famous. If you're looking for a new 2016 Jeep Wrangler in Butler, Kinnelon or Bloomingdale, you can find the SUV at Precision CJDR.
Before you schedule a test drive in the 2016 Jeep Wrangler, though, Precision CJDR is here to give drivers a sneak peek of the new SUV. Read on for our 2016 Jeep Wrangler review.
Comfort Throughout
The 2016 Jeep Wrangler features an interior design that has been overhauled to be especially ergonomic. Available heated leather-trimmed front seats will keep drivers and passengers comfortable on every drive. LED lights on the bottom of your rearview mirror are designed to provide optimal light when needed while driving in the night, plus illuminated foot wells and cup holders have been incorporated for convenience.
The refined interior in the 2016 Jeep Wrangler has been designed to decrease distractions from outdoor noise and road vibrations, which means that you and your passengers can enjoy conversations in the vehicle without disruptions.
Dependability
While enhanced with a comfortable and sophisticated interior, the 2016 Jeep Wrangler stays true to its rugged dependability. All of the dirt and grime that accumulates inside the SUV can be washed out easily thanks to drain plugs on the floor of the interior, while a lockable center console allows you to safely secure any valuables.
The dependability of the Jeep Wrangler continues on the exterior of the SUV, where you'll find an underbody armor of steel skid plates, standard dual-front and single-rear tow hooks and standard fog lamps for low visibility driving.
Off-Road Ready
Like its predecessors, the 2016 Jeep Wrangler is off-road ready. Under the hood of the SUV, you'll find a powerful 3.6-liter Pentastar V6 engine that generates 285 horsepower and 260 lb-ft of torque. This engine configuration is supported by a Rock-Trac four-wheel drive system that delivers more torque to your wheels at a low gear ratio so you can traverse uneven ground. And a disconnect sway bar creates precise handling and stability even on off-road terrain.
Summary
The 2016 Jeep Wrangler builds on the capability already synonymous with the brand. A sophisticated interior is paired with a number of rugged features, so the 2016 Jeep Wrangler is ready to turn heads no matter where you drive it.
Drivers who are looking for the brand-new 2016 Jeep Wrangler in Butler, Kinnelon, and Bloomingdale can schedule a test drive of the SUV today at Precision CJDR. Stop in today to experience all of the new features in action!